[av_section min_height='25' min_height_px='500px' padding='large' shadow='no-shadow' bottom_border='no-border-styling' bottom_border_diagonal_color='#333333′ bottom_border_diagonal_direction=" bottom_border_style=" custom_arrow_bg=" id=" color='main_color' background='bg_color' custom_bg=" background_gradient_color1=" background_gradient_color2=" background_gradient_direction='vertical' src='https://newenergy.is/wp-content/uploads/2018/08/Vetnisopnun-Sahara-71-minni.jpg' attachment='542′ attachment_size='full' attach='scroll' position='center center' repeat='stretch' video=" video_ratio='16:9′ overlay_enable='aviaTBoverlay_enable' overlay_opacity='0.4′ overlay_color='#000000′ overlay_pattern=" overlay_custom_pattern=" av_element_hidden_in_editor='0′ av_uid='av-dntjw'] [av_heading heading='Research and demonstration projects' tag='h1′ style='blockquote modern-quote modern-centered' size='50' subheading_active='subheading_below' subheading_size='15' margin=" margin_sync='true' padding='0′ color='custom-color-heading' custom_font='#ffffff' av-medium-font-size-title=" av-small-font-size-title=" av-mini-font-size-title=" av-medium-font-size=" av-small-font-size=" av-mini-font-size=" av_uid='av-jpo5mbxl' admin_preview_bg="][/av_heading] [av_hr class='short' height='50' shadow='no-shadow' position='center' custom_border='av-border-thin' custom_width='50px' custom_border_color=" custom_margin_top='30px' custom_margin_bottom='30px' icon_select='yes' custom_icon_color=" icon='ue808′ font='entypo-fontello' av_uid='av-jle1en1k' admin_preview_bg="] [/av_section] [av_submenu which_menu=" menu='28' position='center' color='main_color' sticky='aviaTBsticky' mobile='disabled' av_uid='av-jpseuxkn'] [av_submenu_item title='Overview' link='page,792′ linktarget=" button_style=" av_uid='av-em88s'] [av_submenu_item title='Research and demonstration projects' link='page,740′ linktarget=" button_style=" av_uid='av-9qn98′] [av_submenu_item title='Confrences' link='page,822′ linktarget=" button_style=" av_uid='av-70e7w'] [/av_submenu] [av_section min_height=" min_height_px='500px' padding='default' shadow='no-border-styling' bottom_border='no-border-styling' bottom_border_diagonal_color='#333333′ bottom_border_diagonal_direction='scroll' bottom_border_style='scroll' scroll_down=" custom_arrow_bg=" id=" color='main_color' background='bg_color' custom_bg=" background_gradient_color1=" background_gradient_color2=" background_gradient_direction='vertical' src=" attach='scroll' position='top left' repeat='no-repeat' video=" video_ratio='16:9′ video_mobile_disabled=" overlay_enable=" overlay_opacity='0.5′ overlay_color=" overlay_pattern=" overlay_custom_pattern=" av-desktop-hide=" av-medium-hide=" av-small-hide=" av-mini-hide=" av_element_hidden_in_editor='0′ av_uid='av-97ebf'] [av_hr class='invisible' height='50' shadow='no-shadow' position='center' custom_border='av-border-thin' custom_width='50px' custom_border_color=" custom_margin_top='30px' custom_margin_bottom='30px' icon_select='yes' custom_icon_color=" icon='ue808′ font='entypo-fontello' av_uid='av-jpo43535′ admin_preview_bg="] [av_one_full first min_height=" vertical_alignment=" space=" custom_margin=" margin='0px' link=" linktarget=" link_hover=" padding='0px' border=" border_color=" radius='0px' background='bg_color' background_color=" background_gradient_color1=" background_gradient_color2=" background_gradient_direction='vertical' src=" background_position='top left' background_repeat='no-repeat' animation=" mobile_breaking=" mobile_display=" av_uid='av-qoq6j'] [av_heading tag='h1′ padding='10' heading='Research and demonstration projects' color=" style='blockquote modern-quote modern-centered' custom_font=" size=" subheading_active=" subheading_size='15' custom_class=" admin_preview_bg=" av-desktop-hide=" av-medium-hide=" av-small-hide=" av-mini-hide=" av-medium-font-size-title=" av-small-font-size-title=" av-mini-font-size-title=" av-medium-font-size=" av-small-font-size=" av-mini-font-size=" margin="][/av_heading] [av_textblock size=" font_color=" color=" av-medium-font-size=" av-small-font-size=" av-mini-font-size=" av_uid='av-jpo4j7ln' admin_preview_bg="]
The project Create Acceptance contributes to facilitating the implementation of new and emerging sustainable energy technologies by assessing optimal conditions for the implementation of
these new technologies in terms of socio-economic aspects, consumer preferences and citizen
needs. The objectives of this project are to increase the competitiveness of RES (Renewable Energy Sources) and RUE (Rational Use of Energy) technologies by developing a tool that can
measure, promote and improve social acceptance of these technologies.
Create Acceptance: Assessing and promoting societal  acceptance of clean energy technologies.
The project Create Acceptance contributes to facilitating the implementation of new and emerging sustainable energy technologies by assessing optimal conditions for the implementation of these new technologies in terms of socio-economic aspects, consumer preferences and citizen needs. The objectives of this project are to increase the competitiveness of RES (Renewable Energy Sources) and RUE (Rational Use of Energy) technologies by developing a tool that can measure, promote and improve social acceptance of these technologies.
The results are a stakeholder management tool: ESTEEM which provides helpful guidance through the delicate work of interacting systematically all those who may be infliced by new projects. Prjoect mangers can take steps to look into the project design and the social context and their interaction with stakeholders. ESTEEM was formulated from former and current projects involving renewable energy technology. CreateAcceptance published introduction to the tool in the final newsletter answering questions such as What is it? Who is it for? And a quick overview of the webisite.
The CreateAcceptance approach was tested on four European case – projects, and one from South Africa,- one of them being the SMART-H2 project. The linked report gives an overview of how the management tool ESTEEM (from the CreateAcceptance project) was used within SMART-H2
A workshop was also thrown by the University of Iceland, dempartment of sustainable development in Janyary 2008. The University and INE ran a broader stakeholder workshop with the goal of setting a frame or outline a vision for new fuel types for the Icelandic market. The workshop was highly successful and the outcomes will be used to outline a future vision of an integrated alternative-fuel roadmap. Students at the University are processing the material that was collected on paper and tape recorder. The scenarioes will set a frame for various research projects in context with the SMART-H2 project where drivers, filling station operator and cooperating agents are collecting actual performance data on various new vehicles and disrtibution systems 2010. Icelandic New Energy is proud of having been on the team for the development of this tool, and will use it in future projects.
It has been very valuable to widen the scope of public discourse in Iceland, inviting interrested parties to put INE's experience of replying to critique and setting hydrogen into context with other fuel options. Students will be involded in work that can give answers to complicated problems for each type of scenarioe. The ulimate goals is to find steeping stones that can support an eventual shift of fuel in Iceland.
Here is the report from Work Package 2
[/av_toggle] [av_toggle title=' ECTOS – Tags: hydrogen, bus, fuel cell, Iceland' tags="]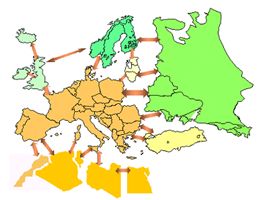 Energy corrodors to Europe.
This undertaking aimed at mapping future energy corridors to Europe from neighbouring countries and renewable sources. It is a natural continuation of the Euro – Hyport project but the general trend was to look into Natural gas as the main energy source until 2030 but thereafter a more massive introduction of Hydrogen was foreseen.
[/av_toggle] [av_toggle title='EURO-HYPORT – Tags: energy, hydrogen, renewables, Iceland' tags="]
HyFLEET:CUTE 2006-09
The 3 fuel cell hydrogen buses were used until January 2007. The ECTOS project came to and end in August 2005 and the performance of the buses exceeded all expectations. Thereafter they were put to furhter use in a demonstration called HyFLEET:CUTE project, where Daimler saw to the project management. A general factsheet on the project published by the project management describes the overall organisation and the goals. HyFLEET:CUTE is a European commission supported project, identification number: TREN/05/FP6EN/ S07.52298/019991
Fuel cells are known to have shorter life time than for example diesil engines and therfore continous use may reveal how sensitive the fuel cells are to prolonged strain. The goal is to run the buses and the hydrogen station for longer continuous periods, not to stop during weekends and find out the optimal running mode for the whole system. Still the buses are not only kept on a single route; they can show up anywhere in the normal public transportation system in Reykjavik. Icelandic New Energy can find out on short notice where they are in traffic.
Students at the University of iceland and reserchers from several departments have conducted studies on social aspects. A report on these is called Social aspects of introducing hydrogen as fuel in Reykjavik.
Hydrogen buses of the same type as the buses in Reykjavik will be used in several cities in Europe, in Perth in Australia and Bejing in China. The largest fleet will be operated in Hamburg, Germany. The goal of this project is to monitor the performance of the buses and the infrastructure, compile the outcomes of social studies within the ECTOS and CUTE projects and harmonise the dissemination of the lessons learned during all the tests. IN ECTOS it became evident that it is poosible make the fuel economy better and if only the systems are synchronized. The most important factors is to run the station in a contiuous mode and keep producing hydrogen for several weeks. Also to run the buses 6-7 days a week and raise thereby the demand for hydrogen. The buses have shown much better fuel efficiency if they run on longer distances and stop more seldom – just like other types of vehicles. Data that can reveal the differences according to various running modes will be collected during the HyFLEET CUTE. In Germany, the lessons learned during the tests will be used to design a second generation of the EvoBus fuel cell bus and MAN will put a bus to the test which runs on hydrogen but is equipped with an internal combustion engine.
The project website is at www.global-hydrogen-bus-platform.com.

[/av_toggle] [av_toggle title='HySociety – Tags: hydrogen, challenges, Europe' tags="]
PrepareH2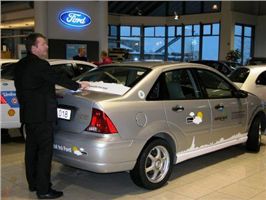 This study was organized as a support mechanism to evaluate and raise quality of suggested socio-economic research undertaken in future hydrogen lighthouse projects and be both supportive to the Joint Technical Initiative and for applicants who are kicking off their own hydrogen organization. The duration of the projects was 18 months.
The participants organized first the areas they found of interest and drew up maps of the relevant social groups involved at each societal sector related to hydrogen projects. These were called socio-grams and display actors in each country /region where hydrogen demonstrations have been undertaken. Then partners from these sectors were interviewed and issued. In the same report a large table; a classified outline of the social studies that have been done so far was composed. This study matrix and the interviews gave rise to new ideas for social/economic research in the field. The table was first grounded in the projects Hy-Approval and HyFLEET:CUTE. This simple outline revealed that social studies carried out in context with hydrogen demonstrations often lacked substantiation, variety and helpful comments from the involved stakeholders. Often technical and demonstration projects, like some of the national projects referenced here, use vast resources for hardware while neglecting the human interface and cultural variations of both public and private perceptions as well as economic effects in the demonstrating countries. Integrating lessons learned from nationally supported H2 projects, Prepar-H2 begun with upgrading the social matrix, by adding results from social studies from recent years and then dig deeper.
Views and comments were also be gathered from people involved with other alternative fuels and drive trains; Prepar-H2 simultaneously provided an economic comparison between hydrogen, other alternative fuels and conventional fossil fuel. The final outcome is information on social comments and values as well as economic data providing grounds for evaluation of the relevancy and quality of proposed accompanying measures in future hydrogen lighthouse projects.  More importantly, findings from Prepar-H2 are not only applicable to future lighthouse projects but also have the flexibility to be applied to other H2 projects thereby successfully promoting H2 in societies through a thorough social and economic understanding of stakeholders' perceptions, attitudes and actions.
Involved in this project are five partners, Icelandic New Energy sees to the project management.  The others are:
1.        Stiftelsen for Industriell og Forskning ved Norges Tekniske Hogskole (SINTEF)
2.        Berlin University of Technology (TUB)
3.        H2-LINK Denmark Association (H2 Link)
4.        Italian National Agency for New Technologies and the Environment (ENEA)
The reports of the project:
Deliverable 1 &  3 – Social studies in context with hydrogen deployment: Analysis, quality, gaps and recommendations.
Deliverable 2 & 4 – Economic aspects related to introduction of Hydrogen as transportation fuel.
Deliverable 5 – Practicalities of running hydrogen fuel chains: Recommendations for hydrogen projects based on interviews with experienced staff in this fuel service. Emphasis on Project design, administration and financial issues.
Prepar-H2 poster – with highlights from the recommendations.
Prepar-H2 presentation – a presentation from Jón Björn Skúlason that was held on the 22nd of November 2011 as a part of the Joint Undertaking (FCH JU) stakeholders General Assembly in Brussels.

[/av_toggle] [av_toggle title='Rekkevidde – Tags: range, EV, testing, Nordics' tags="]